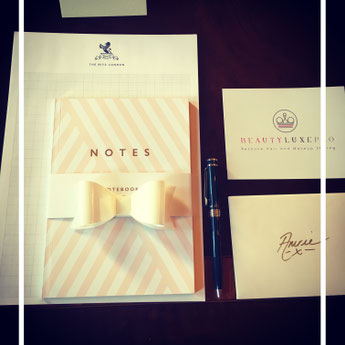 On Sunday I had the privilege to go to The Ritz for a mentoring session with the amazing gorgeous Brooke Price. I met Brooke nearly two years ago when she did my Airbrush MakeUp Training. We kept in contact and I have even had the privilege to work for her also.
Anyway the opportunity came up that she was doing a Business course called MakeUp & Money. I did hesitate to do it last year for one reason or another, however this August i thought about it again and i am so glad i did it. It has been a 12 week course where i worked with some like minded Entrepreneurs. The eight ladies that were on the course with me you are truly inspirational. I love you all dearly and we will be MakeUp & Money sisters eternally.
So i hear you going what has this got to do with The Ritz. Well after the 12 week course we had a little treat where we could all meet and have one last intensive session together and Brooke arranged it all at you guessed it...The Ritz in London. All day we had three lovely staff members who catered  to our every need. Tea, coffee, bottled waters, a buffet that was out of this world, cakes, more tea and more cake and finished off with a cocktail and half a dozen carol singers around a grand piano. Yum!
Oh it was so worth the panic at 4.30am when my Hubbie stated he will have to stay with the kids when he was meant to be driving me. It was worth the guilt of leaving my sick son and non sleeping daughter with Daddy! I even got a free parking space outside The Ritz from a lovely doorman, which when i rang they told me was going to cost me £60. Thank you!!
I cannot wait for the next twelve weeks with you Brooke where we can delve even further of knowledge, excitement and commitment. 
Please visit my instagram for some more posts...
---
The LAst One of the Year...
My last but most certainly not least wedding of they year. A little late i know with the manic season of Christmas nails, lashes, tans, make up and more i can certainly say it is BUSY. My last wedding of the year was with Tyler. Tyler what can i say about you. So calm, so lovely, so kind and your daughter she is beautiful. You made me want to have another one (don't worry I'm not). Im sure my daughter Matilda and Martha will have lots of years of fun together.
Your dress was totally WOW!! Sally at White Bride in Narberth you never disappoint with your dresses. The beading and lace well i would not to the dress justice with my explanation but you will see with the pictures shortly. Tyler you and your bridal party were so warm and welcoming. Just up my alley with the make up looks your wanted, Tyler you left everything in my hands and we created your desired wedding make up look at your trial in record time with just a change of lipstick a shade lighter. The early start was most certainly worth it, Thank you for making my last wedding of they year one to cherish forever. I cannot wait to use your images from Angharad in my portfolio. Thank you x
Main Picture & Photography Angharad Thomas Photography 
Dress by White Bride Narberth
Make up by me